We understand: your trailer is your lifeline to business. Many local companies rely on trailers to get their equipment to the job site. Whether you're in landscaping, auto detailing, plumbing, irrigation repair – or even mobile welding, like us! – the ability to move your tools around Jacksonville is critical to helping your customers.
We also know those roads can be tough on your trailers. Between debris, asphalt, and gravel, trailers can take a beating over the years.
One of the worst impacted spots are the fenders directly above your wheels. This is where the grit gets kicked up the most, and this is where we start to see rusting, dents, and corrosion that threatens to put your trailer on the sidelines.
The good news is that you don't necessarily need a whole new trailer!
In addition to trailer repair for boats, jet skis, and lawn maintenance companies, we can also build you customized upgrades like these heavy duty fenders that were requested by a recent client.
These custom welded fenders are fabricated from thick, steel plates, and that means they can handle a lot of impacts that would leave lighter fenders in need of repair. This can be especially useful if your trailer spends time on rougher roads – or off the road altogether!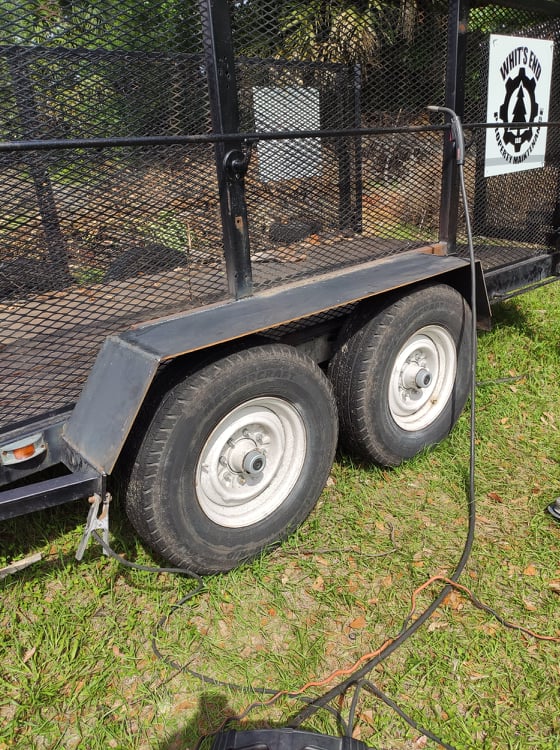 Custom welding and fabrication in Jacksonville
Got a different idea for a welding job? We can help with that, too! Every trailer that we visit to repair or modify has a different story. How it has been used – and random luck – can determine exactly which types of damage needs to be repaired. The most common problems seem to involve broken trailer gates and fenders, so we're glad to help fabricate a new heavy duty version so you can get back to work without having to invest thousands on a new rig.
Have other needs and ideas? There's a lot we can do! If you can imagine it, we can build it. So click on the link above to call us today! It just takes a few minutes to consult about your project and we can be out to help weld before you know it!
Mobile Welding – where you need it
Of course, if your trailer is in desperate need of repair, you can't just bring it to the shop! That's why you'll be glad to hear that Jax Mobile Welding comes to you – wherever you need it. So don't wait and don't miss the job: call us today and we will get you and your tools back on the road ASAP!